NSF RCN Global Coal Transitions Network — Year 1 Workshop (Durham, UK; Poznań & Konin, Poland)
Photo dump from site visits to a coal-fired power plant and a coal mine in Konin, Poland, on day 4 of a workshop bringing together social science researchers working on coal and energy transitions (if you're on the desktop site, click or drag the photos to see the full images.)
The workshop was part 1 of a three-year research collaboration network funded by the NSF. Read more about the network here:
u.osu.edu/globalcoal
.
It was an inspiring week with an incredible group of people. Thanks especially to PIs Max Woodworth and Jeffrey Jacquet, and Aleksandra Lis and Sarah Knuth for organising the days, and props to J. Mijin Cha and Andrew Curley for being my unwitting photographic muses. Already looking forward to the Year 2 conference in Columbus, Ohio in July 2024 (and get in touch if you're interested to join or hear more).
I also took the opportunity to finally update this website—so below is a compendium of random things from over the years, which I'll add to as I get the chance.
05/2023
Film review — Holding Tightly: Custom and Healing in Timor-Leste

In early 2022, we held the first screening of Lisa Palmer and Susanna Barnes' newest documentary,
Holding Tightly: Custom and Healing in Timor Leste,
in the Geography Seminar Series at the University of Melbourne.
I had the honour of being the discussant for the screening, and wrote up my comments in a film review for
The AAG Review of Books.
You can read the review here
.
The 30-minute film explores seven different approaches to healing in Baucau, Timor-Leste's second-largest city, as seen through the eyes of practitioners, patients, people and place. It explores the, variously complementary and antagonistic relation between folk remedies and western medicine, ultimately demonstrating how pharmacological intervention and spiritual connection are profoundly entangled in customary practices of healing in Timor today.
Watch the full film at
Wai Mata Films
, part of the
Arkivu Dijitál Kultura No Ekolojia Timor-Leste
, or stream the film alongside other films by geographers at
IAG Film Shorts
.
04/2022
KSCA — An Artist, a Farmer and a Scientist Walk into a Bar... (NSW, Australia)

Interested in cross-disciplinary collaboration, socially engaged art and regenerative agriculture?
An Artist, a Farmer and a Scientist Walk into a Bar...
is a newspaper exploring issues of land, regenerative agriculture and rural change in Australia. It is the final publication of a major creative arts initiative from the Kandos School of Cultural Adaptation (KSCA). The initiative involved nine artists embarking on collaborations with farmers, scientists, Aboriginal knowledge holders, chefs and rural innovators, including at
The Living Classroom
in Bingara, NSW.
Through reports, stories, essays, poems, reflections and more, the pieces seek ways to re-think and re-practice relationships to land in a changing climate.
I co-edited the newspaper with Laura Fisher and Lucas Ihlein, and contributed an article called "Serres' Ark: Crossing Disciplines at Groundwell". The article reflects on the embodied work of interdisciplinary collaboration, refracted through the life of philosopher Michel Serres.
Access the digital newspaper here,
and get in touch if you'd like to be posted a hard copy version to read over Sunday breakfast.
Regenerated land image by Alex Wisser
03/2021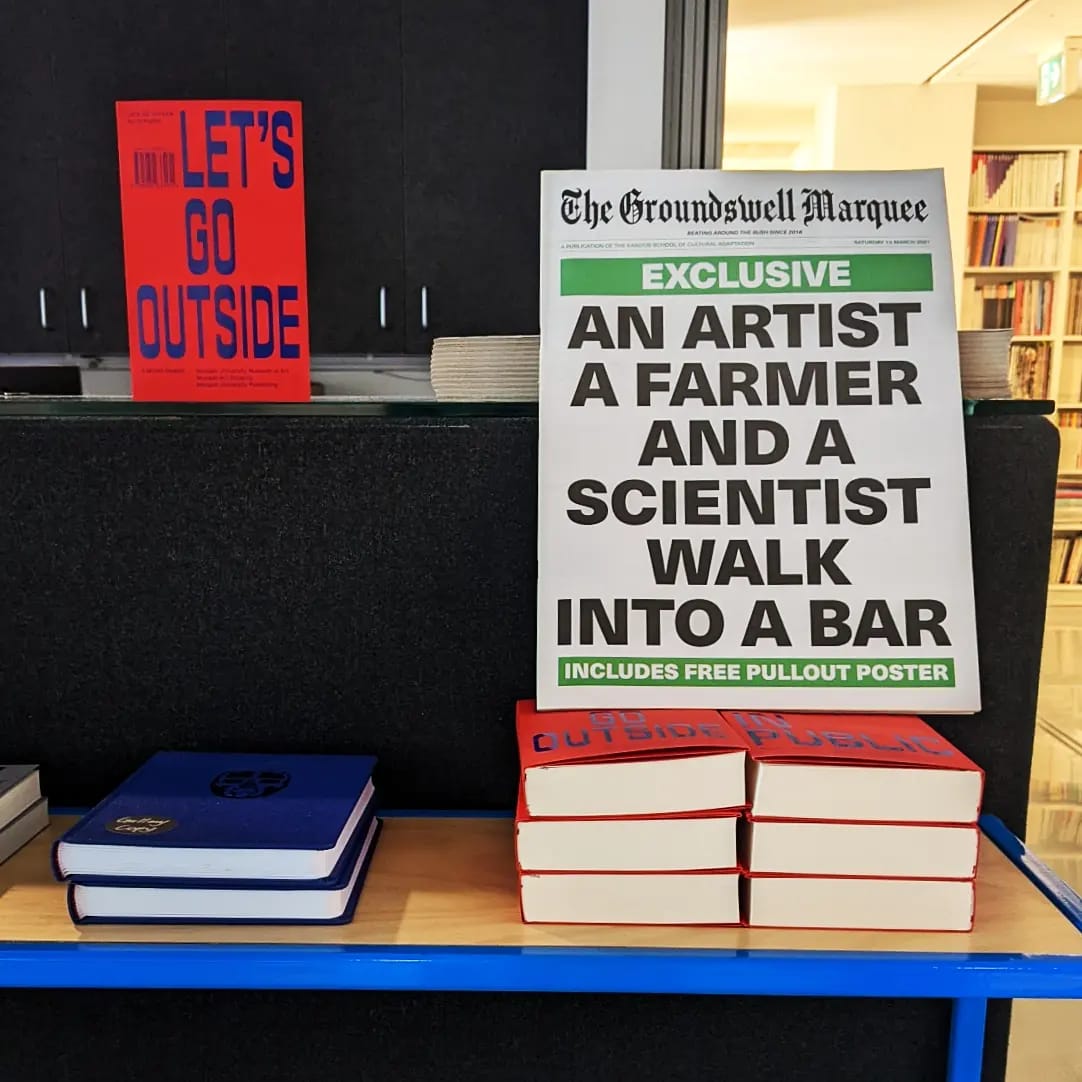 Shrine to a closed coal mine (Australia)

My small contribution to the Incubating Imaginaries collective, facilitated by Therese Keogh and Saskia Schut.

Featuring a lump of coal gleaned from a long-closed coal mine in the Illawara that we visited together. Also some books from my shelf. And a sunflower I grew.
07/2019